Mary Mackenzie, CNVC Certifeid Trainer, NVC Academy Co-founder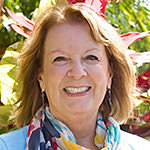 Mary Mackenzie is a CNVC Certified Trainer, the executive director of the Peace Workshop International and co-founder of the NVC Academy. She holds an MA degree in Human Relations and is a trained mediator.
Mary is the author of Peaceful Living: Daily Meditations for Living with Love, Healing and Compassion.
Mary's first career was as a fundraiser in higher education, where her listening skills helped people realize their dreams and helped her raise millions of dollars for the universities for whom she worked. She ended this fifteen-year career to begin work with the newly-formed Flagstaff Center for Compassionate Communication and thus started her journey in NVC.
Mary's guiding vision is to help people fully connect to themselves and their world so that they may experience more joy. Toward this end, she teaches Nonviolent Communication (NVC) to individuals, families and couples, and she works with organizations by offering individual or group workshops and facilitating organization-wide restructuring. Her primary focus is to make NVC easy to understand and integrate, thus making it accessible to everyone.