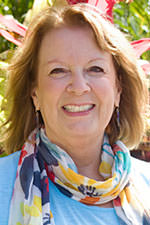 About Mary Mackenzie
Mary Mackenzie, M.A., is an author, trained mediator, and CNVC Certified Trainer of Nonviolent Communication. She holds a master's degree in human relations from Northern Arizona University and is the co-founder of the NVC Academy, the only online school for learning Nonviolent Communication.
Mary teaches Nonviolent Communication and other spiritually-based programs to individuals, couples, families, organizations, and spiritual communities through a wide variety of workshops and retreats. Her book Peaceful Living: Daily Meditations for Living with Love, Healing and Compassion offers inspiring practical methods for creating peace in our everyday lives.
As a pioneer of online NVC training, Mary runs her company in harmony with what she teaches. She and NVC Academy co-founder, Mark Schultz, paved the way to NVC online training in 2006 and have been instrumental in alleviating the financial and geographical barriers to learning NVC skills.
One of her passions is facilitating critical dialogues between people, and she has spent more than 20 years learning a wide variety of effective processes she can draw on in a moment's notice. Known for her clear communication style, she is especially skilled in helping individuals within groups put aside their preferences and find ways to collaborate with each other that are in alignment with their values. Her ability to cut through the confusion in a group has helped many teams quickly move forward in their desired progress. More...