Understanding White Privilege as a 21st Century Leadership Capacity

Shakti Butler, Filmmaker and Founder & President of World Trust
Friday, June 9th • 5:15-6:45pm Pacific (California) Time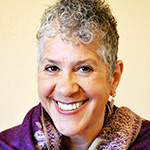 Working on social justice and racial equity? If you include attending to white culture and privilege as part of that work, you'll reap important benefits. Understanding white culture — along with its embedded historical privileges — provides valuable insight into a larger system of inequity.
Dominant cultural narratives or norms — such as what constitutes a family, who's perceived to be dangerous / intelligent / acceptable / have valid perspectives — are codified into that culture's customs, laws, institutions, policies, and practices. These reinforce any existing stereotypes and limit fair access in terms of who's welcome vs who remains outside the circle of human concern, providing advantages to some and disadvantaging others. And, even when those inequities are persistent and obvious, the foundations that drive them may not be.
During this session, we'll explore white cultural assumptions, as well as its embedded privileges and perspectives: what's considered normal, appropriate, desirable, and / or valid. We'll fill in any gaps in understanding while providing an impetus for considering current norms, policies, and practices: a unique lens designed to open up new entry points for policy and systems change.
This is a Joint Project of The Center for Assessment and Policy Development (CAPD), MP Associates and World Trust Educational Services, funded by The W.K. Kellogg Foundation