Becoming Better Allies

Kristin Masters, CNVC Certified Trainer
​ 11:00am-12:30pm Pacific (California) Time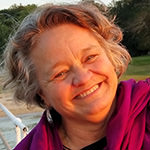 What if you're a person of privilege?
How can YOU use YOUR privilege to advocate for someone you believe is being mistreated — without it feeling awkward and challenging — and in a way that ensures your efforts will be truly beneficial?
Join Kristin for this eye-opening session and find out!
Together, you and she will unearth and expose whatever it is that blocks you from taking more effective and attuned action. You'll discover that, once you've recognized that you are a person of privilege and have gained clarity about your innermost motivations, there are endless opportunities for you to step forward as both an ally and accomplice.