Victor Lee Lewis, Social Justice Educator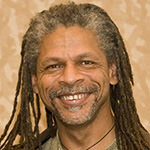 Victor is a nationally respected diversity and social justice educator with more than 25 years of experience, best known for his leadership in the award-winning race relations documentary, "The Color of Fear." Victor holds an MA in Culture and Spirituality from Holy Names University, Oakland, CA, He is a father, a barefoot dance machine and a resiling and resurgent and trauma survivor.
Lewis is the founder and Director of the Radical Resilience Institute. As a Progressive Life Coach, his work supports transformative change agents in improving and maximizing their emotional resilience, mental flexibility, and personal performance and effectiveness. Lewis brings a unique socially progressive vision to the work of personal growth, personal empowerment, and emotional health. This is the fruit of his 30+ years search for personal healing and social justice, and nearly as many years of innovating practice in using liberatory educational approaches to bring healing and justice to others.
Lewis is best known for his inspiring leadership role in the award-winning race relations documentary, "The Color of Fear." Lewis is co-author, with Hugh Vasquez, of Lessons from The Color of Fear, a four volume multi-media curriculum to be used in conjunction with the film. This is an indispensable resource for educators, diversity trainers and facilitators. Lewis has conducted keynote speeches, seminars, workshops and "train the trainer" programs throughout the U.S. and abroad.
Read about Victor's Conference Session